After you download the package from ThemeForest, please unzip it. You'll see a file called azen.zip, which needs to be uploaded and installed.
Important: One of the most common reasons people have issues is because they try uploading the full zip that includes demo content, theme, documentation…etc which displays the "The package could not be installed. The theme is missing the style.css stylesheet." error. Please make sure you upload only the theme which is called azen.zip.
Now that you made sure WordPress is up to date, you can install the theme, and there are two ways to install Azen, via WordPress or via FTP.
1. Install Azen via WordPress
---
Step 1 – Log into your WordPress website and go to Appearance > Themes and click Add New.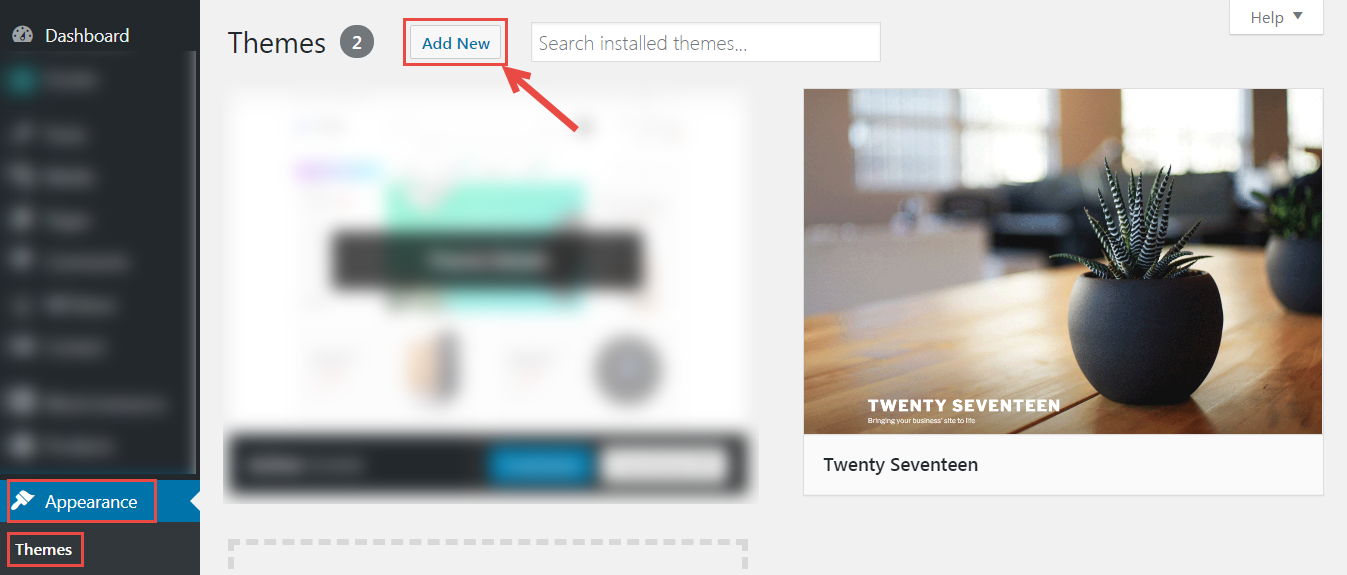 Step 2 – Click  Upload Theme.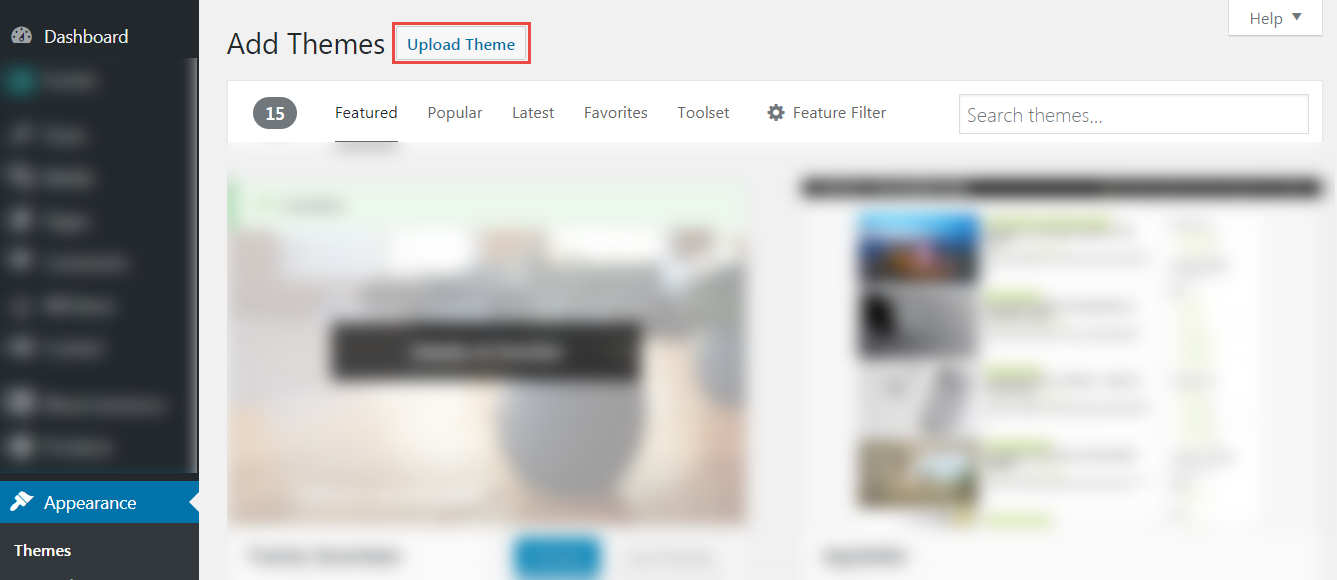 Step 3 – Browse the azen.zip file on your computer and click Install Now.

Step 4 – After the theme was installed successfully, just click to activate it.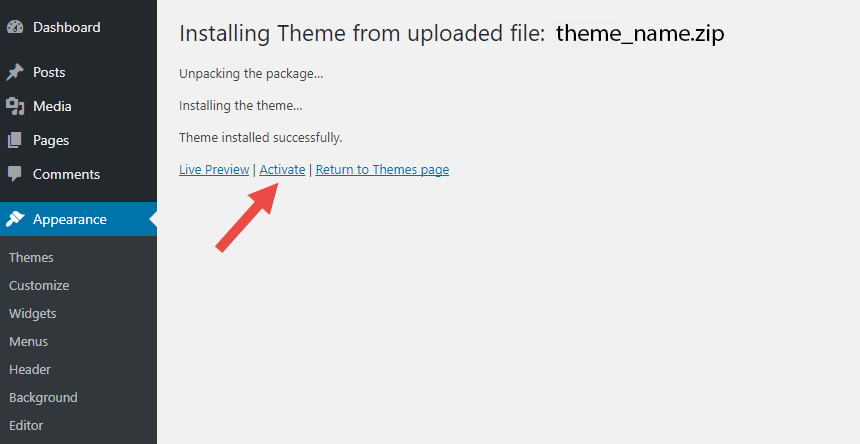 If you get the "Are You Sure You Want To Do This" message when installing azen.zip file via WordPress, it means you have an upload file size limit. You need to install the theme via FTP, or contact your hosting provider to increase the limit.
Install Azen via FTP
---
Step 1 – Unzip the azen.zip file, you'll get a folder azen.
Step 2 – Log into your hosting space via an FTP software (Use a FTP client like FileZilla).
Step 3 – Upload that folder to wp-content/themes folder on your host.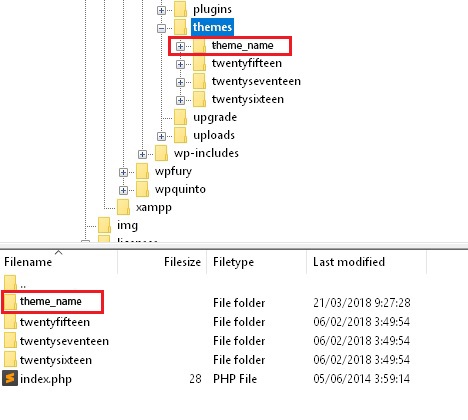 Step 4  – Go to Appearance > Themes and activate the Azen theme.
02. How To Install Plugins Included
---
The theme included Visual Composer & Slider Revolution licensing plugin, we purchased it from Codecanyon and included it for free in the theme package without any issues. However, if you want automatic updates and support from the plugin developer, you need to purchase it separately (this is 100% optional). Because we are not allowed to include the license key for it, so you DO NOT have a purchase code for that plugin and you can't enter anything in this field. If there is any update, we are accountable for updating the theme with the newest version of  this plugin.
After installing the Azen theme, you'll see a notification on the top of the page that says the theme needs some plugins to function properly.

After clicking on "Begin installing plugins", you will see the box below: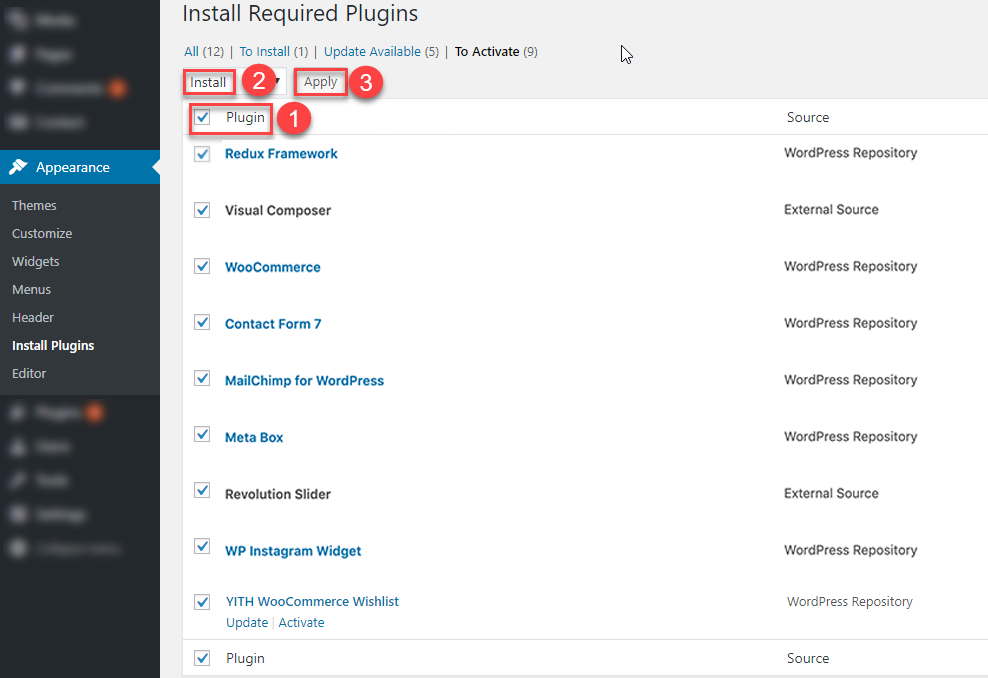 1. Check plugin button.
2. Select Install from the drop down list.
3. Click Apply button to Install all plugins.
The installation process may take few minutes, so please be patience. All installations have been completed.
Scrolling down and click on the link "Return to the Dashboard" to go back your Dashboard.